General Hospital
General Hospital Spoilers: Nina, Ava, Michael and the Blackmail Plan!!!
General Hospital Spoilers: Nina, Ava, Michael and the Blackmail Plan!!!
General Hospital spoilers report Nina Reeves (Cynthia Watros) has been confiding in Ava Jerome (Maura West) for more than a year now. Every bit of her relationship with Sonny Corinthos (Maurice Benard) rests in Ava's trusty hands. Of course, in the back of Nina's mind is a nagging feeling that Ava could sell her out at any point in time. Still, she can't seem to stop herself from overseeing once again.
Letting Ava in on what Michael Corinthos (Chad Duell) is doing by using her secret against her, Nina isn't going to like Ava's timely advice. Will Ava decide it's too little too late and tell Sonny the truth since she's not willing to go down with Nina's ship?
General Hospital Spoilers — Nina Needs a Shoulder to Cry On
Every time we see Nina mess up, we watch her run to Ava to reveal what she has done. It's as though unburdening herself to Ava helps to ease some of the guilt she feels about her many mistakes — and keeping them from Sonny. But Ava has never truly reciprocated Nina's friendship in the same manner.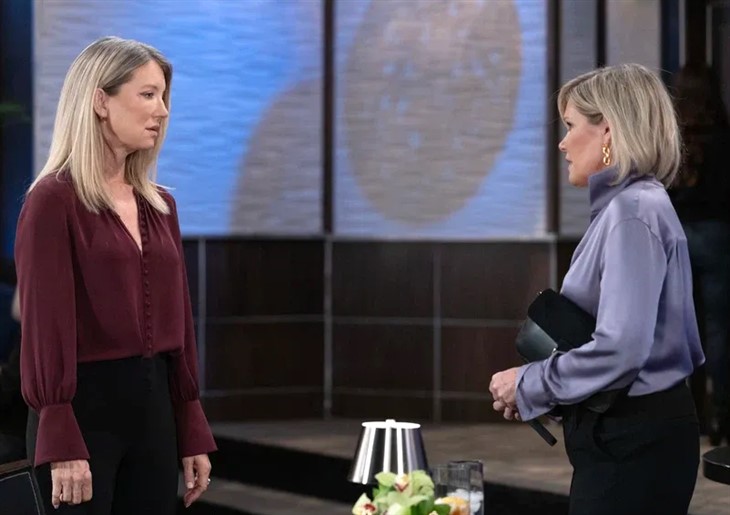 She might listen to her and offer advice, but Ava has never revealed her own secrets to Nina. It seems as though this friendship is a bit of a one-way street, and Nina might be sensing that underneath it all. Or, she's just paranoid — and rightfully so.
GH Spoilers Spill Ava Lends Just an Ear
When Nina tells Ava that Michael figured it all out — thanks to Martin 'Marty' Grey (Michael E. Knight) — and has her over a barrel when it comes to her relationship with Willow Corinthos (Katelyn MacMullen) and her grandchildren, Ava may not give her the warm reception she was hoping for.
Let's be frank though, Ava has warned Nina many times that the truth always has a away of coming out, and she needs to be honest with Sonny before someone else does that for her.
Now, it appears Ava may have been right. Michael has Nina right where he wants her. Not only does that unnerve Nina, but it worries Ava, too.
General Hospital Spoilers — Ava Saves Her Soul
The last thing Ava wants is to be on Sonny's bad side — or Carly Spencer's (Laura Wright, or any of their clan really. She's been in good graces with him and the fam since he came back from Nixon Falls.
If they all knew she knew what Nina was up to the whole time, she would be toast — and it could cost her the relationship she adores with her daughter, Avery Corinthos (Grace Scarola).
Because of the mounting anxiety that Nina piles onto her, Ava just might rat her out to Sonny to save her own hide in the process.
Nina will think of that, but only after she's told her everything — as usual. Stay tuned for more GH news and spoilers to see how this storyline pans out.