Bold and the Beautiful
The Bold And The Beautiful Recap: Eric Thrilled, Steffy Isn't Going Anywhere, Ridge Receives Bad News
The Bold And The Beautiful Recap: Eric Thrilled, Steffy Isn't Going Anywhere, Ridge Receives Bad News
The Bold And The Beautiful (B&B) recap for Tuesday, November 7, 2023, Indicate that Eric Forrester (John McCook) is looking over his office and reminiscing.
Eric places a photo on his desk and then takes another coughing spell. Ridge Forrester (Thorsten Kaye) jumps Donna Logan (Jennifer Gareis) for not telling him about Eric's condition.
The Bold And The Beautiful Recap Highlights
Eric wants to find help for his dad. Steffy Forrester (Jacqueline MacInnes Wood) hopes that Sheila Carter (Kimberlin Brown) got the message.
Bill Spencer (Don Diamont) and Liam Spencer (Scott Clifton) are having dinner.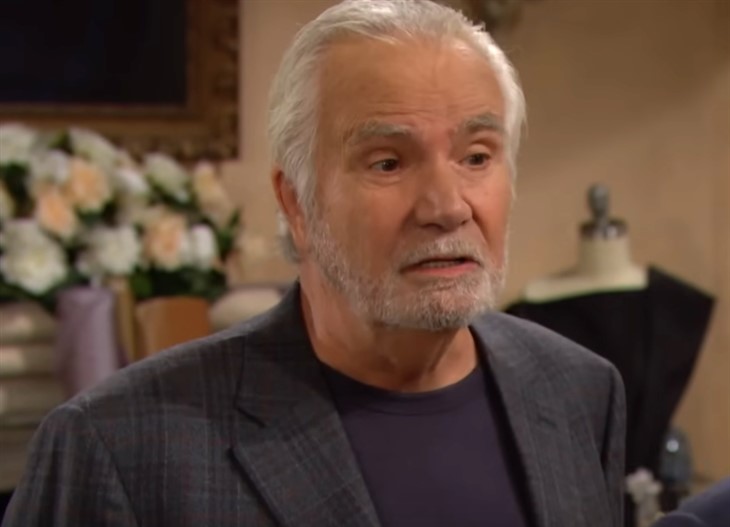 The Bold And The Beautiful Recap – John Finnegan Enjoys His Family
Finn and the kids are eating. Finn has ordered all their favorites. Meanwhile, Liam is telling Bill how Finn has failed Steffy and the kids.
Bill says Liam loves Steffy and to never forget that. Finn and Steffy share a glass of wine and Finn promises to protect Steffy and the kids.
Steffy doesn't want to be away from Finn. Steffy refuses to let Sheila separate her from her family. Steffy has missed him too. Steffy and Finn kiss.
Bill says that Deacon Sharpe (Sean Kanan) makes good pizza. Liam says he can give Steffy a better, safer life than Finn can.
Finn and Steffy vow not to allow anyone or anything to come between them. Finn tells Steffy how she has changed his life.
Steffy has proven again just how amazing she is by confronting Sheila. Steffy just wants to be with Finn, in his arms. Steffy and Finn begin to underdress no the couch. Finn and Steffy move toward their bedroom.
B&B Recap – RJ Forrester Reassure Eric Forrester
The Bold And The Beautiful spoilers reveal that RJ Forrester (Joshua Hoffman) shows up and Eric praises him.
ALSO READ: B&B Spoilers: Steffy Forrester Dancing With The Devil
Eric is thrilled that he and RJ won but RJ feels guilty. RJ thinks about what Ridge gave up for Eric. Eric commends Ridge for how graciously he handled the defeat.
Eric is very aware of the strain this has put on their budget. Ridge and Brooke arrive and forget to knock. Eric will share the office eventually but he isn't sharing his chair.
Eric tells Ridge how much that stapler means to him. Eric says the stapler was lost like it was dead and forgotten like him. Brooke and Ridge assure him that he will never be forgotten.
The Bold And The Beautiful Recap – Ridge Forrester Talk With Eric Forrester's Doctor
Ridge, Donna, and Brook Logan (Katherine Kelly Lang) all go to meet Eric's doctor. Ridge wants to know how this happens.
ALSO READ: The Bold And The Beautiful Spoilers: Steffy's New Attitude – Finn Thrilled Family Intact
Ridge doesn't know how to read the results that Eric's doctor has given them. He tells the family they have consulted with everyone they can.
There is nothing more they can do to help Eric. The doctor advises Eric's family to be there for him as much as they can because he is going to need it in these last days.
Be sure to catch up on everything happening with B&B right now. Come back here often for The Bold And The Beautiful spoilers, news, and updates.