Bold and the Beautiful
(HOT NEWS) The Bold And The Beautiful Spoilers: 3 Must-See B&B Moments – Week Of October 30
The Bold And The Beautiful Spoilers: 3 Must-See B&B Moments – Week Of October 30
The Bold and the Beautiful spoilers for the week of October 30 reveal there are three must-see moments. Fans can expect Steffy Forrester Finnegan (Jacqueline MacInnes Wood) to return to L.A. Upon returning, Steffy announces she is prepared to face Sheila Carter (Kimberlin Brown).
Plus, Ridge Forrester (Thorsten Kaye) learns life-changing information. Fans will also find out if Ridge or Eric Forrester (John McCook) is the winner of the fashion showdown.
The Bold And The Beautiful Spoilers – Steffy Forrester Finnegan's Return
B&B spoilers for the week of October 30 reveal that one must-see moment features a character's return. As fans might have heard already, Jacqueline MacInnes Wood is coming back from maternity leave. That means fans will see Steffy again.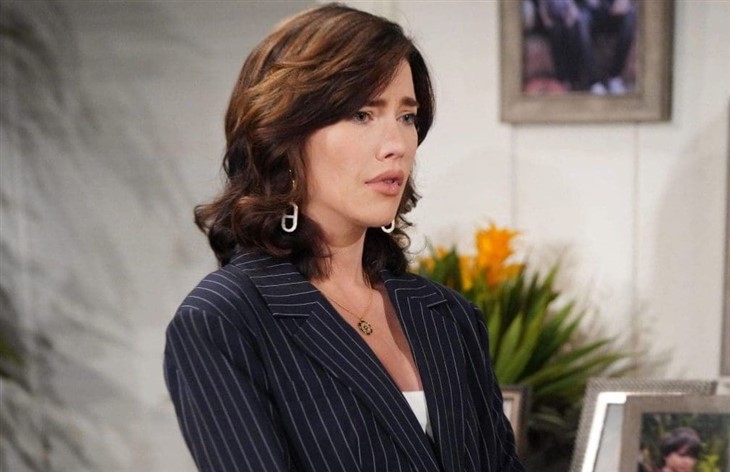 As the Forrester family kicks off the fashion showdown, Steffy will surprise John "Finn" Finnegan (Tanner Novlan). "SINN" happily reunites, so Liam Spencer's (Scott Clifton) bombshell doesn't derail the couple.
At the same time, fans heard what Liam said after making that fateful phone call to Steffy about Sheila and Deacon Sharpe (Sean Kanan).
B&B Spoilers – Sheila Carter's Face-Off
When Steffy and Finn reunite, they have a discussion about Sheila. When Steffy fled Los Angeles with Kelly Spencer (Sophia Paras McKinlay) and Hayes Forrester Finnegan (Alexander and Chase Banks), she feared Sheila.
However, Steffy comes back recharged and ready for battle. In fact, Steffy knows that Sheila puts Finn in tough positions, especially considering the void he feels inside. So, Steffy will declare that she is strong enough to face Sheila once and for all.
It is also teased that Steffy gets revenge on Sheila. So, could Steffy crash Sheila and Deacon's wedding? After all, Sheila did the same thing to Steffy and Finn.
The Bold And The Beautiful Spoilers – Ridge Forrester's Life-Changing Discovery
The Bold and the Beautiful spoilers for the week of October 30 reveal that another must-see moment centers on Eric. As fans know, Eric has been given six months to live.
Only a few people know and Eric is defying the doctor's orders by continuing to push himself so hard at work. It is teased that Ridge will make a life-changing discovery. So, that must be Ridge finding out about his father's diagnosis and prognosis.
B&B Spoilers – Must-See Moments
When Ridge and everyone else learn about Eric's condition, the entire Forrester family will likely come together. Fans are still hoping that Eric can be saved, or this condition is a terrible misdiagnosis. So, stay tuned to see what happens.