General Hospital Spoilers: Cyrus Is Making The Rounds, But Who Is He Really Targeting?
General Hospital spoilers reveal Cyrus Renault (Jeff Kober) has been released from Pentonville, and he seems intent on righting his wrongs. Or at least, that's what he's pretending to be after as he chases down every last person he has wronged in an attempt to make peace and apologize to them. Is Cyrus really seeking to turn his life around as a man or God and live out his days in peace, or is there something more sinister up his sleeve?
Clearly, his entanglements with Mason Gatlin (Nathanyael Grey) and Austin Gatlin Holt (Roger Howarth) serve as proof that Cyrus is hardly a changed man. His enemies aren't buying his act either.
General Hospital Spoilers — Portia Robinson Is Pressed
When Cyrus showed up at the hospital to say he was sorry and ask for Portia Robinson's (Brook Kerr) forgiveness, she struggled to find the words to convey just how shocked she was.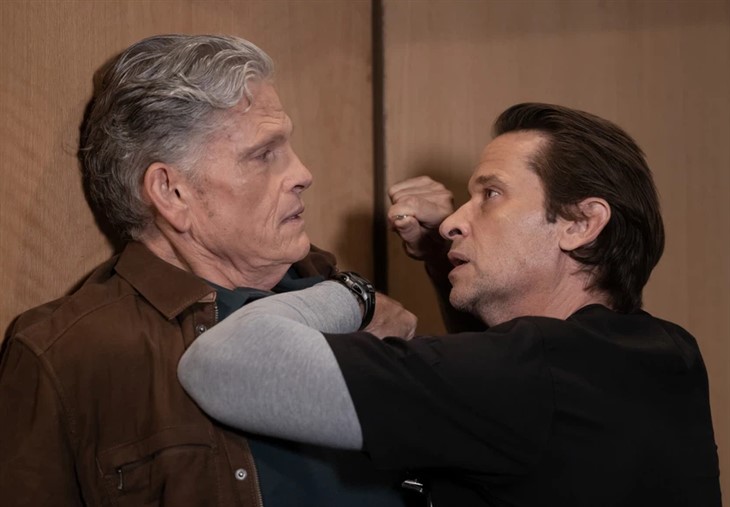 The audacity he must have had to come there and even ask her to entertain a conversation with him stunned her, as it did Curtis Ashford (Donnell Turner) when she shared what had happened on her shift. The next time Portia sees Cyrus, he better be ready for a fight. Maybe that's just what he wants?
GH Spoilers – Hint Trina Robinson Went Postal
The apple obviously doesn't fall far from the tree. Trina Robinson (Tabyana Ali) was equally as caught off guard when Cyrus showed up at Ava Jerome's (Maura West) gallery. He claimed to be there shopping for art.
We don't know how he's paying for that or where he's staying, since he allegedly gave all of his money away to a recidivism program for inmates. Trina didn't back down and instead lost her cool, shouting at Cyrus to get the hell out.
Spencer Cassadine (Nicholas Alexander Chavez) tried to read the room as he backed up Trina's request and escorted Cyrus toward the door.
His presence will haunt Trina for some time, possibly positioning her to go on the attack when she sees him again —- and she will. That may very well be his intention, too.
General Hospital Spoilers — Carly Spencer Isn't Having It
It seems like Cyrus is eager to startle his past victims. Carly Spencer (Laura Wright) is no exception, but she isn't as fearful of him as Portia and Trina are. Is Carly the real target in Cyrus' game?
It would make sense for him to zero in on someone who is not only close to Drew Cain (Cameron Mathison) but also Sonny Corinthos (Maurice Benard).
Is Cyrus angling to make an enemy out of Carly just to stoke those fires and keep everyone on edge? Stay tuned for more GH news and spoilers to find out.