Days of Our Lives
Days Of Our Lives Spoilers: Lucas' Prison Wisdom, Chad Races To Fix Marriage Stall Mistake?
Days of Our Lives spoilers reveal that Chad DiMera (Billy Flynn) told Stephanie Johnson (Abigail Klein) that he wasn't ready for marriage. Chad admitted to Kate Roberts Brady (Lauren Koslow) that he felt guilty about moving on from Abigail DiMera (Marci Miller) after only 16 months. When Chad visits Lucas Horton (Bryan Dattilo) in prison, could the inmate share some words of wisdom? Keep reading and discuss what could happen with Chad and Stephanie's storyline.
Days Of Our Lives Spoilers – Stephanie Johnson's Wish
DOOL spoilers reveal that Stephanie admitted to Kayla Johnson (Mary Beth Evans) that she wanted to marry Chad. That is perfectly normal for any young woman to think.
However, Stephanie was hoping that her conversation with Kayla was between them. Stephanie was put in an awkward position when Chad overheard Stephanie's confession to Kayla.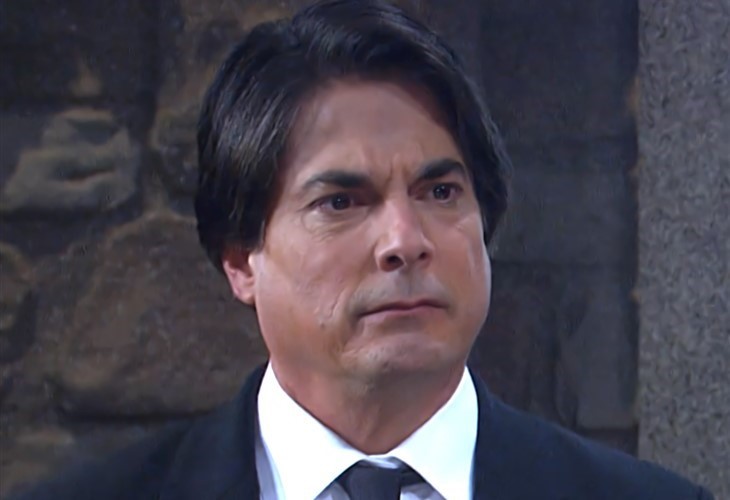 DOOL Spoilers – Chad DiMera Blindsided
Chad felt completely blindsided. After all, Chad hadn't even thought of marrying Stephanie until he overheard the conversation with Kayla.
Plus, Stephanie and Chad haven't even been together for a year yet. So, while Stephanie's desire is normal, Chad feeling blindsided is a normal reaction as well.
The problem with this storyline is that Chad and Stephanie are talking to everyone else except each other.
During the brief time that Stephanie tried to do damage control, Chad said he was happy with the things were. Stephanie verbally agreed, but her eyes told a different story.
Days Of Our Lives Spoilers – Missing Abigail DiMera
Days of Our Lives spoilers reveal that Chad admitted to Kate that Abigail had only been gone for 16 months. Chad is never going to be "over" Abigail.
However, Chad might need more time. Chad might have jumped too quickly when asking Stephanie to move in. At the same time, there could be something else that is causing Chad to hesitate to marry Stephanie.
DOOL Spoilers – Lucas Horton's Wisdom
During the week of October 16, Chad visits Lucas in prison. It is teased that Lucas will be supportive to Chad. So, Chad might open up about Abigail and Stephanie to Lucas. Will Lucas be able to help Chad deal with his feelings?
Perhaps missing Abigail isn't the real reason for Chad's hesitancy. Is it possible that Chad is terrified of losing another wife? If so, will Chad race to get to Stephanie before she turns to Alex Kiriakis (Robert Scott Wilson)?
Share your thoughts in the comment section below. Remember to keep watching the soap on Peacock to find out what happens next.
Be sure to catch up on everything happening with DOOL right now.