Breaking News: Finn & Steffy's Painful Healing, Can 'SINN' Survive?
The Bold and the Beautiful spoilers for Wednesday, August 30 reveal that John "Finn" Finnegan (Tanner Novlan) begged Steffy Forrester Finnegan (Jacqueline MacInnes Wood) to reunite.
Even though Sheila Carter (Kimberlin Brown) is once again an issue, it is clear that "SINN" love each other very much. So, expect Finn and Steffy to try to heal their fractured relationship. Keep reading to find out what is coming up in the CBS soap opera.
The Bold And The Beautiful Spoilers – John Finnegan's Reunion Plea
B&B spoilers for Wednesday, August 30 reveal that Finn will continue fighting for his family. Ever since Steffy took Kelly Spencer (Sophia Paras McKinlay) and Hayes Forrester Finnegan (Alexander and Chase Banks) to Eric Forrester's (John McCook) house, Finn has been reeling mentally. Finn bounces from attacking Liam Spencer (Scott Clifton) to begging Steffy for another chance.
Even though Finn did make a mistake, how can Steffy be sure it won't happen again? That is the big question on Steffy's mind right now.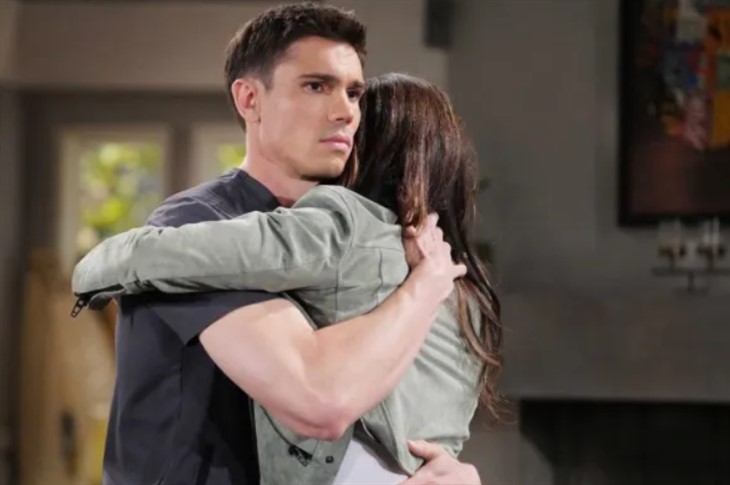 B&B Spoilers – 'SINN' Love
In the past, each time "Lope" or "SINN" had issues, Steffy and Liam would end up back together. This time, Liam tried to kiss Steffy multiple times.
However, Steffy wasn't interested in getting back together with Liam. Despite being separated from Finn, Steffy still rejected Liam.
So, it's clear that Steffy loves Finn and despite their problems, she doesn't want to make the same mistakes she has made before.
The Bold And The Beautiful Spoilers – Painful Healing & Fractured Dynamics
The Bold and the Beautiful spoilers reveal that Steffy will still feel uncertain about her future with Finn. Steffy nearly lost her own life and actually grieved Finn because of Sheila. The last thing that Steffy wants to do is make any decision that jeopardizes Kelly and Hayes.
At the same time, Steffy knows that Finn really struggles with his situation. Even though Finn was loved dearly by Li Finnegan (Naomi Matsuda), the good doctor still has a desperate craving within him to know his blood family.
For Finn, this is Sheila. So, Finn bounces between staying away from Sheila and then being manipulated by the villain.
B&B Spoilers – Wednesday, August 30
It is teased that Finn and Steffy will try to repair their fractured relationship. However, we know from spoilers later in the week that Finn and Steffy's love shines through the uncertainty.
So, it sounds like Finn and Steffy will reunite, although the healing could be painful.
Can Finn and Steffy overcome their latest hurdle? What does the future hold for Finn, Steffy, Liam and Sheila? Share your thoughts in the comment section below. Remember to keep watching the soap on CBS or Paramount+ to find out what happens next.
Be sure to catch up on everything happening with B&B right now. Come back often for The Bold and the Beautiful spoilers, news, and updates.
For more about what's happening on your favorite soaps and more ways to connect with us, join the conversation on our Facebook Page, check out our Twitter feed, look for an update on our Instagram, follow us on Threads , Always stay up-to-date with us on Google News, or drop us an e-mail HERE! See you there!